BAMBANG MURYANTO -THE JAKARTA POST
Yogyakarta / Sun, February 2, 2020 / 01:00 pm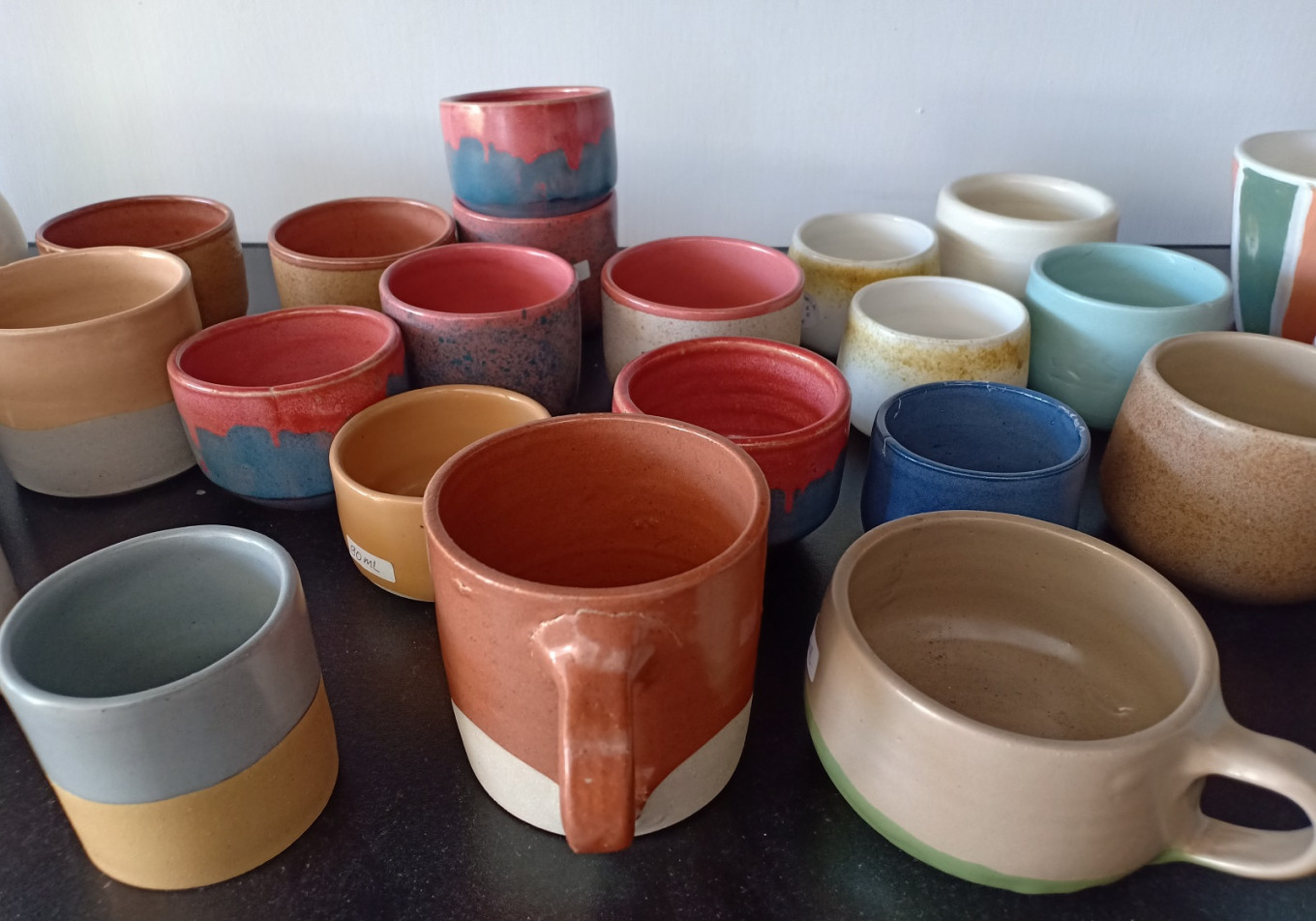 The colorful mugs made by Kaloka Pottery (JP/Bambang Muryanto)
After becoming weary of working for a lifestyle company, in 2016 Fransisca Puspitasari, 43, decided to resign and produce her own ceramic ware under the brand of Kaloka Pottery, the business has since taught her about life and has opened ways for her to do good deeds for nature.
At the front of her 1825-built house in Bausasran subdistrict, Danurejan district, Yogyakarta, she has created a small glass-walled showroom to display various ceramic tableware such as cups, plates and jars.
The buyers, most of whom are fairly well-to-do, can also watch the finishing process of the products in the studio located next to it.
Producing ceramic ware is mysterious. After being fired, the results can be different from what we wanted," Fransisca, or Kika as she is affectionately called, recently told The Jakarta Post.
From the process, she said, she learned that producing ceramics was like going through life: never hope for too much, what matters the most is doing something useful and expect nothing in return. Life is not a smooth road. It is a long learning process so that humans have to be thankful for what they get, she said.
When building the business and facing many challenges, she relied heavily on her intuition, logic and previous work experience in order to survive.
She said she learned how to make ceramics when she studied at the Yogyakarta Institute of the Arts (ISI Yogyakarta), majoring in crafts. She knew well that making ceramics was difficult. She even almost gave up because she often failed.
Thanks to her perseverance and wide network, she was finally able to realize her dream of running a handmade ceramic tableware business that boasts products with up-to-date colors and ornamentation to meet international market demand.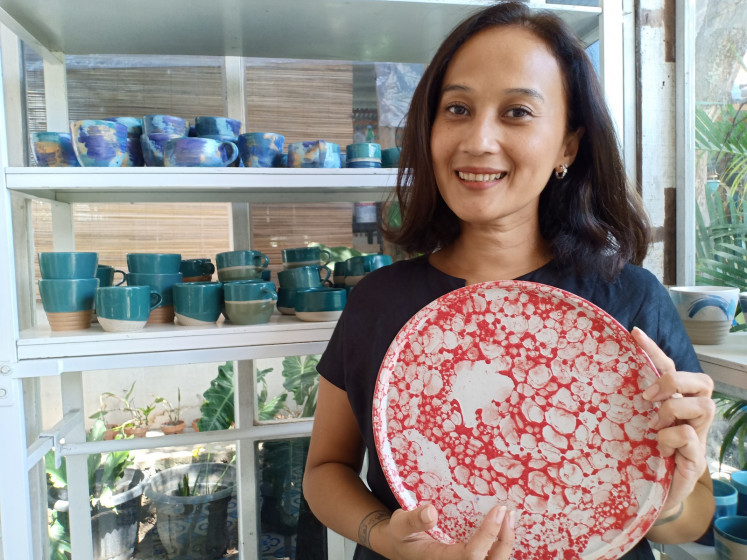 Kaloka Pottery founder Francisca Puspitasari (JP/Bambang Muryanto)
"I initially only made the design, took the pictures of the samples and uploaded them on my Instagram account," said the mother-of-two.
It was from Instagram that she started receiving orders. Yet, she felt uncomfortable when meeting the orders because she had to work on them in someone else's studio. She decided to build her own studio in mid-2017. Not long after that, she received an order from a restaurant in Qatar, which had learned about her products from social media, for 2,000 units of ceramic tableware.
From there she started employing more workers and bought new ovens. She also built another studio so she could meet the orders from café owners from all over Indonesia as well as from Middle Eastern countries and the United States.
"I am lucky because my ceramic products have passed the international test and are declared as being safe for food," she said.
A cafe in Yogyakarta named Klinik Kopi, which uses Kaloka Pottery products, went viral after it appeared in the movie Ada Apa dengan Cinta 2 (What's Up with Cinta? 2). The café owner, Pepeng, said he used a Kaloka Pottery product, the Koka dripper, because of its local brand status.
"Indonesia is rich in materials to make a dripper. Why don't we use our own products?" he said, adding that apart from using the product for its own business, his café had since 2017 also marketed over 5,000 units of the dripper, which comes in five choices of colors.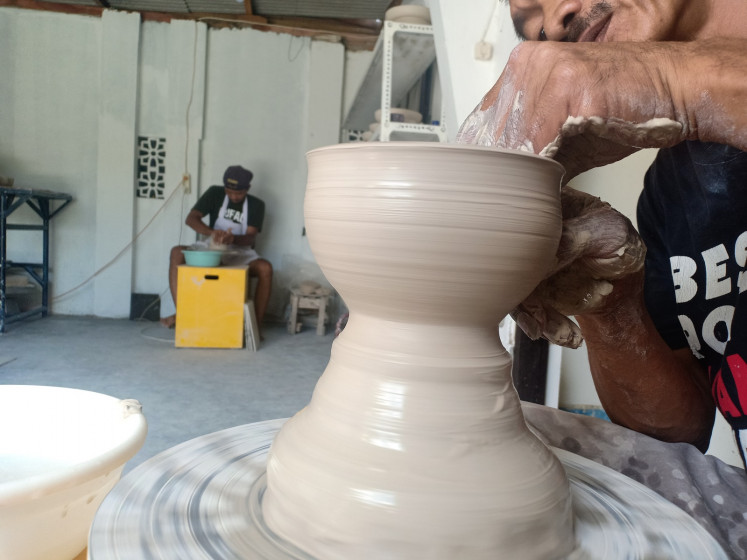 A Kaloka Pottery employee in the process of creating a product (JP/Bambang Muryanto)
Kaloka Pottery has also cooperated with the Papermoon Puppet Theater group to produce merchandise mugs for its Puno (Letter from the Sky) puppet performance.
"The studio makes attractive handmade ceramics. Why shouldn't we cooperate?" Papermoon's co-artistic director Maria Tri Sulistyani said, adding that she and Kika also happened to be friends.
Instagram has also featured her in one of its limited #founders series profiles, which focus on "amazing small business owners from all over the world".
Kika currently also offers short classes for those who want to learn how to make ceramics. Those interested in joining, including tourists visiting Yogyakarta, can choose between regular and private classes.
Despite the current popularity of Kaloka – a Sanskrit word meaning famous – Kika has not forgotten her promise to do good deeds by spending part of her profits on social activities such as helping disaster survivors and orphans. She also donates some of her profits for mangrove planting in Demak, Central Java, helping to produce compost in her home village, and becoming a foster parent for baby orangutans.
"I certainly built this business to do good deeds, to make my team wealthy, to maintain culture and to care for nature and others." (yun/kes)

Sumber :
https://www.thejakartapost.com/life/2020/02/02/kaloka-pottery-learning-life-lessons-from-ceramic-making.html